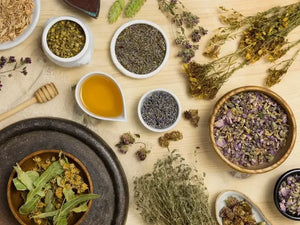 Experience the Magic of India's Organic Spices
Have you ever wondered where your spices come from? If you're like most people, you probably don't give much thought to the origins of the spices you use to flavor your food. But the truth is, some of the world's most exotic and delicious spices come from various remote areas of India.
For centuries, India has been known for its spices. These spices not only add flavor to food, but they also have medicinal properties. 
Today, there is a growing movement to use organic spices in cooking. This is because organic spices are more flavorful and nutritious than non-organic spices. 
In this blog post, we'll know the benefits of organic spices and what do Organic Spices really mean?
What do Organic Spices Really Mean?
In recent years, the popularity of organic foods has increased dramatically. More and more people are looking for organic options when they grocery shop, and this trend has extended to spices as well. 
But what exactly does it mean for a spice to be organic? 
Simply put, organic spices are those that are grown without the use of synthetic pesticides or fertilizers. This means that the spices are grown in a more natural way, which many people believe is better for both the environment and your health.
The next step is processing. While organic spices are sterilised safely utilising processes like steaming, freezing, and sun drying, non-organic spices are sterilised using hazardous chemicals like ethylene oxide.
Additionally, at Rooted Peepul, we processes its herbs and spices using both hand and stone-grounding methods. This avoids the loss of the real aroma, flavour, texture, unlike conventional crushing machines. Spices maintain their nutritional and medicinal properties by remaining close to their natural state. Our organic lakadong turmeric powder and Dal makhani masala and lot of other spices are adored by our customers.
If you're looking for the highest quality spices, then buy our 100% Natural and organic spices online and tell us how's your experience!
Benefits of Using Organic Spices
Organic spices are a great way to add flavor to your food. They're also better for your health, because organic spices don't contain pesticides and other harmful chemicals.
There are many benefits of organic spices such as:
1. High Amount of Antioxidants
The compounds in organic spices have high levels of antioxidants that help protect against free radicals and reduce inflammation in the body.
2. Deliver Real Aroma & Taste
Organic spices give a true flavor to your dishes that's not masking with artificial flavors or smells.
3. No-Harmful Effect on Your Body
Most chemical pesticides used on conventional foods have been linked to cancer and other serious diseases. Organic food is usually grown without using these harmful chemicals, so they don't end up in organic spices either.
4. Better Dose of Nutrition
Because of the preservatives in common spices, they have already lost a substantial amount of nutrients. However, organic spices have all the necessary nutrients. You may anticipate your body absorbing more nutrients from them because they are natural and free of preservatives
5. Boost Immunity
The best justification for using organic spices is to boost immunity. They can aid in preparing the body to combat a variety of illnesses and health problems. Many spices are well known for their medicinal benefits, including garlic, cumin, turmeric, and many others. Because of this, organically grown spices are more in demand than conventional ones.
Range of Spices at Rooted Peepul
At Rooted Peepul, we believe in providing the freshest, cleanest and highest quality spices possible to our customers. That's why we source our spices from authentic organic farmers and then we make blends. We have a wide variety of spices, ranging from the familiar to the exotic such as:
1) Amritsari Bharwan Paratha Masala
6) Tikka Masala
7) Korma Masala
All of our spices are carefully selected to provide the best flavor and aroma possible. If you're looking for a particular spice, we likely have it in stock. And if we don't, we'll do our best to get it for you. We believe that everyone deserves to enjoy the flavor of truly fresh spices. Visit us today and see the difference fresh spices can make in your cooking.
Go Organic
By including organic spices in your diet on a regular basis, you can benefit from their nutritional value in a variety of ways, including increased metabolism, boosting immunity and aid in digestion. They are also more environmentally friendly because no pesticides or other chemicals are used during the production of any type of produce.
Try Rooted Peepul's 100% Natural spices and transform a dish from ordinary to extraordinary.