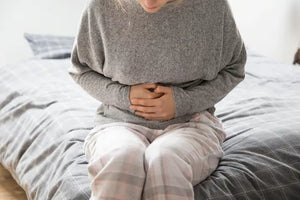 Indian Spices to Help You With Constipation
A healthy stomach is crucial for a healthy life. When you have constipation or indigestion, you are continuously concerned with being able to relieve yourself properly and cannot focus or function in any other way.
Chronic constipation is not just harmful to your stomach and your health; it also interferes with many of your daily activities. 
So, if you are suffering from constipation and are seeking an organic and natural long-term treatment, this post is for you.
Several western drugs and alternative medications  are available for constipation, but most are only effective for a limited period and cannot be used continuously.
The short-term approach of taking medicine does not address the root cause of the problem. Focusing on improving healthy digestion and body metabolism is crucial for a long-term solution to chronic constipation. Going organic and making specific dietary modifications might help you overcome constipation naturally.
What is Constipation?
Constipation is a severe condition characterised by difficult and infrequent bowel motions. Recurrent constipation is the inability to pass regular bowel motions for more than three to four days per week. Chronic constipation makes it challenging to relieve oneself regularly, leading to various health issues.
Primary Reasons Behind Constipation
1. Not Drinking Enough Water:
Dehydration is a crucial cause of constipation daily. When you do not drink enough water, your stool becomes harder due to dehydration and water absorption in the colon. This causes constipation and makes it difficult to pass the faeces.
2. Lack of Physical Activity or Sedentary Lifestyle:
Exercising your body daily is essential for good health and digestion. One of the primary causes of irregular bowel movements is a lack of physical activity in your daily routine.
3. Not Getting Enough Fibre in Their Diet:
Fibre is essential for a healthy digestive tract. A lack of fibre in the diet might result in hard stool that is difficult to pass through the anal muscles, which leads to constipation.

4. Eating Junk Food:
An unhealthy diet is another major cause of constant constipation. Replacing unhealthy junk food with wholesome Holistic homemade cuisine might be an effective treatment for constipation.
So, What is a Natural Health Cure To Relieve Constipation?
The solution is hidden beneath your kitchen cabinets. Indian food is incredibly rich in various nutrients that improve the flavour of our meal but also maintain proper gut health.
So, how do spices help with constipation relief?
The numerous health benefits of various Indian spices are widely known. From taste to health benefits, using the right spices can contribute to trouble-free digestion.
The use of various spices in your day-to-day diet has long been appreciated in Indian Ayurveda to maintain proper digestion and keep it running correctly and smoothly. Let us look at the issue of constipation and the spices that might help you get rid of it.
Which Indian spices Are The Best For Constipation?
Almost all of the spices in your kitchen can help improve your digestion and increase your health by multiple folds. When using the best Indian spices, you do not have to look very far. You can regularly use the spices in your daily curries or in the form of different recipes to see results.
Let's look at the spices that you can use:
1. Cumin powder
2. Cardamom
3. Carom seeds
4. Lakadong Turmeric Powder
5. Cinnamon Powder
Takeaway
Changing your lifestyle and eating holistic and organic food with perfect spice balance can be the key to a healthier digestive system in the long run.
When it comes to spices, it's important to remember that balance is everything. Spices, when consumed in the appropriate amount and manner, can prevent a variety of stomach disorders.
Remembering that ingesting pure and real spices is necessary to achieve the desired outcomes is vital. Rooted Peepul is a brand known for offering 100% natural spices which are free of adultration that are good for your health and are safe to consume as they are devoid of additives or contaminants.