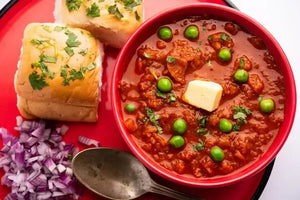 How To Make Pav Bhaji at Home?
Pav Bhaji is a street food from India that consists of a spiced vegetable curry served with soft bread rolls. It is a popular dish in India and is also eaten in other parts of the world.
The dish is believed to have originated in the city of Mumbai in the 19th century. It was created as a quick and easy meal for the city's workers. The dish soon became popular and is now eaten all over India.
Pav Bhaji is usually made with a mix of vegetables, but the most common include potatoes, peas, carrots, and tomatoes. The vegetables are cooked in a spiced butter sauce and served with soft bread rolls.
Here is an Easy ecipe for Pav Bhaji
INGREDIENTS
To be pressure cooked and mashed:
Potato: 3 large size (cubes)
Cabbage: 2 cup (chopped)
Peas: 1 cup
Carrot: 1 cup (chopped)
Beans: 1 Cup (chopped)
Capsicum: 1 Cup (chopped)
Salt: ½ tsp
To prepare gravy:
Cooking oil: 2 tbsp
Butter: 2 tbsp
Onion: 2 cups (finely chopped)
Garlic paste: 1tsp
Ginger paste: 1 tsp
Tomatoes: 2 cups (finely chopped)
Salt: ½ tsp
Rooted Peepul Artisanal Pav Bhaji Masala: 2 tbsp
Tomato puree: 2 tbsp
Red chili powder: ½ tsp
Black salt: ½ tsp
Lemon juice: 2 tsp
To garnish:
Butter
Coriander leaves (finely chopped)
INSTRUCTIONS
Pressure cook all the veggies with ½ cup water and salt for 4-5 whistle
Let the pressure drop. Mash all the veggies well with a masher or spatula and keep it aside
Heat a pan/kadai and pour oil and butter
Add onion and salute until glazy
Add garlic paste & ginger paste and salute for a couple of minutes
Add tomato add cook until soft and mushy. Add Salt to taste
Stir in Rooted Peepul Artisanal Pav Bhaji Masala and salute till the raw smell goes
Add tomato puree & mashed veggies.
Mash & Mix well and add Red chili powder, Black Salt & Lemon Juice
Finally Garnish with butter & chopped coriander
Serve hot with butter toasted Pav