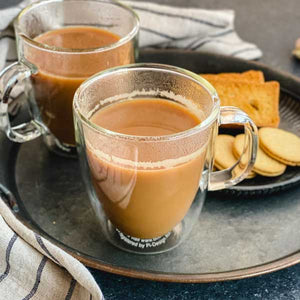 Health Benefits Of Drinking Chai Tea
Chai Tea can help with the management of blood sugar levels, it can have heart health benefits, a positive effect on your metabolism, and more. Chai tea is made from a mixture of black tea, ginger, and other spices. 
Cardamom, cinnamon, fennel, black pepper, and cloves are the most popular spices, although star anise, coriander seeds, and peppercorns are other popular options as well.
Chai tea is typically made using both warm water and warm milk unlike regular tea, which is brewed with cold water. It also tends to have varying degrees of sweetness. Another way to consume Chai tea? Just add milk and voilà, a Chai latte is created! A shot of chai tea concentrate is added to steamed milk, creating a drink that includes more milk than you would see in a traditional chai teacup.
You can get Chai tea in most cafés, however, you can make it from scratch from the comfort of your own home. You can also make it from premixed tea bags, or a concentrate bought from a store. Chai tea could be fantastic for your heart's wellbeing. Animal studies have shown that cinnamon, a major ingredient in chai tea, can improve blood pressure.
Most research has found that consuming four or more cups of black tea a day, can slightly lower blood pressure. Furthermore, drinking three or more cups of black tea per day tends to be correlated with an 11% lower risk of heart disease.
Chai tea helps control your blood sugar levels. This is because of ginger and cinnamon, both of which can have beneficial effects on a person's blood sugar. Low insulin resistance makes it easier for your system to drive sugar out of your blood and into your cells. This may help to reduce blood sugar levels. It is also important to note that Chai tea served in cafés is often highly sweetened, unlike home-brewed chai tea, which would possibly eliminate the other ingredients of its blood-sugar-lowering effects.
Chai tea includes ginger, whose anti-nausea properties are well-known. Ginger appears to be particularly effective in reducing nausea during pregnancy. A review of studies conducted on a total of 1,278 pregnant women, found that a daily dose of 1,1–1,5  grams of ginger substantially reduced nausea. Furthermore, animal studies show that black pepper will raise the rates of digestive enzymes needed to properly break down food and facilitate optimal digestion.
The quantity of pepper used in these animal studies, though, was five times higher than that of the average amount consumed by humans. Therefore, further studies are still needed until firm conclusions can be drawn. Chai tea can aid in several ways to prevent weight gain and encourage fat loss. It is usually prepared with cow's milk or soy milk, both of which are good protein sources.
Nonetheless, try not to have too much-added sugar if you are drinking 
chai tea
. Many common chai tea varieties produce substantial amounts of sugar that would actually combat any of its benefits. There is currently no consensus on how much chai tea the average person would need to drink to reap the aforementioned health benefits.
Many reports concentrate on the benefits of individual ingredients, making it hard to determine the actual quantity of chai tea or the precise formula you'd need to optimize such benefits. Caffeine can cause a variety of unpleasant effects when consumed in excess, including anxiety, migraines, high blood pressure, and poor sleep. Too much caffeine might also increase the risk of miscarriage or low birth weight.
People who suffer from low blood pressure or low blood sugar, or who take blood-thinning medications, should consider limiting their intake or hold it at the bottom of the range because of the chai tea's ginger content. Individuals who are intolerant to lactose should stick to chai teas produced from plant-based milk or water only. Chai tea is a fragrant, sweet tea that can help boost heart health, lower blood sugar rates, aid digestion, and weight loss. While science confirms most of these health benefits, it is worth noting that they are usually linked to the products used in chai tea rather than chai tea itself.
Nonetheless, by giving chai tea a try you certainly don't have much to risk. Only remember that by going for a minimally sweetened variety, you'll get the most health benefits from your tea.
If you would like to get your hands on some Chai Tea, look no further than Texas Specialty Beverage. Order yours, today.