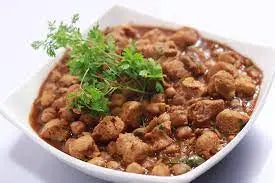 Delicious and Easy Chole Masala Recipe
Chole Masala is a delicious and easy-to-make Indian dish that is perfect for any occasion. This dish is made with chickpeas, tomatoes, and a variety of spices, and can be served with rice or bread. Chole Masala is a great vegan or vegetarian option, and can also be made gluten-free. 
Let's have a look at the ingredients and recipe to make chole masala.
INGREDIENTS
2 cup chana (dried chick peas) (soaked overnight)
1-liter water
Tea Bag: 1
For Making Chole/Chana Gravy
Cooking Oil: 2 tbsp.
Chopped Ginger: 1tbsp.
Tomato puree: 3 tbsp.
Green chilli: 1
Rooted Peepul Authentic Chole Masala: 2 tbsp.
Dry mango Powder: 1 tsp
Black Salt: 1/2tsp
Chopped Corriander: 1tbsp.
Salt to taste
RECIPE INSTRUCTIONS
Prepare Chickpeas / Chana
Rinse dried chickpeas and soak them in 1-liter water overnight or for at least 8 hours
Drain the water and rinse them well. Pressure cook for 5-6 whistles in 1-liter water. Put a tea bag with chickpeas & salt to taste while cooking.
Let the pressure drop. Make sure the chickpeas is tender and soft
Prepare Chole Masala
Heat a pan/kadai and pour oil.
Add chopped ginger and salute till golden brown.
Add Tomato puree n cook until mushy & thick
Add a Green chilli (slit into 2)
Stir in rooted peepul chole masala and salute till the raw smell goes
Add chana along with the chana stock. For smooth and thick gravy slightly crush few chana with spoon.
Cover and simmer for 5-6 minute and then add Dry mango powder, Black Salt
Adjust Salt to taste & season with chopped coriander
Simmer for 3 for minute or until you get the desired consistency
Serve hot with Roti / Rice